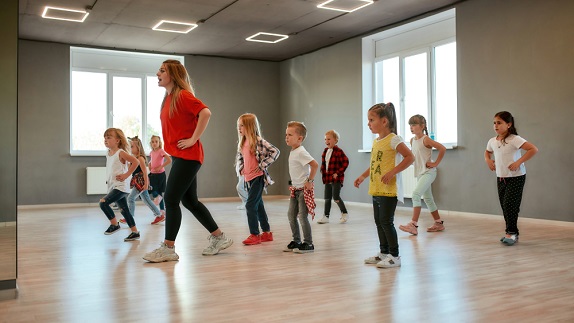 Performing arts refer to forms of artistic expression that are performed live in front of an audience. The performing arts can significantly impact a child's development, particularly in areas such as cognitive and social development. Read our discussion of how performing arts impact a child's development here.
Performing arts include a variety of disciplines such as theater, dance, music, opera, and spoken word. To learn more, we provide a brief overview of these major categories of performing arts:
Theater

Theater refers to live performances in which actors or actresses portray characters in a scripted play or an improvisational performance. It can include a variety of genres, including comedy, drama, tragedy, and musical theater.

Dance

Dance is an art form expressed through rhythmic body movements. This category of performing arts encompasses a wide range of styles such as ballet, hip-hop, contemporary, jazz, folk, cultural, and more. Dance can be performed solo, in duets, or in groups, and it frequently incorporates choreography, music, and theatrical elements.

Music

Music, as a performing art, involves playing musical instruments, singing, and performing compositions, whether individually or as part of an ensemble or orchestra. This category of performing arts covers a vast array of genres, including classical, jazz, pop, rock, hip-hop, and more.
If you are in need of services that will help your child and provide quality and accessible education, CAMEN Academy For The Performing Arts can assist you and your child.
We are a provider of performing arts education in Orlando, Florida, dedicated to providing top-quality education and care for our children.
We provide progressive programs that meet the needs of every child, including children with autism spectrum disorders.
Contact us about our ABA services in Florida and learn more about what we do.